Information Technology Writers
Information has become an abundant commodity, and a vast, burgeoning technology industry has emerged to help the world manage its growing supply. We write for many clients studying in the information technology sector. Our information technology writers are called upon to write about many aspects of IT, from concerns about privacy, security, and copyright protection, to the sociological impacts of IT, to harder subjects such as network theory, computer sciences and programming. We must be equipped to cover all the angles – IT from a business perspective, from an IT professional's perspective and from the end user's perspective. We need IT writers with versatile knowledge to create excellent academic documents on those and many other subjects.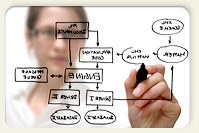 A broad expertise in information technology is a given for our IT writers, but more than that, we need writers with the ability to quickly assimilate new information as they work on new and challenging assignments, researching as they write. Because the bulk of the writing we produce is for academic purposes, our writers must all be good researchers as well. We need writers who can put together great examples of strong academic essays and term papers, with all the proper parts, such as introductions with clearly stated theses, well-researched body content and strong conclusions. Our writers must know how to cite their research sources in all major academic writing styles, such as MLA, APA, and others.
We treat our writers well – and those we find to be most dependable are kept constantly busy with income generating assignments. Because of our clients' frequent need of high quality writing on short deadlines, we need our writers to be available to take new assignments often, and capable of completing them quickly with a high degree of excellence. Writing in our IT department will keep you up to date in your field – while doing what you love and earning an income.